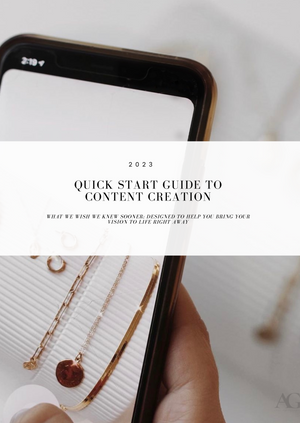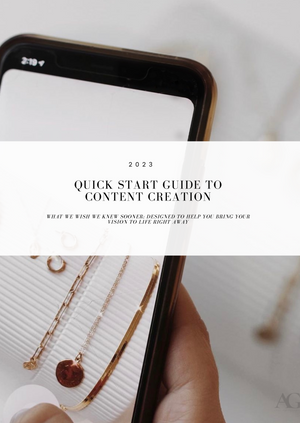 On Sale
Don't Know Where to Begin? Here's Everything We Wish We Knew Sooner | Quick Start Guide to Content Creation
Hi friends!
It means the world that you're here. Despite both having our degrees in electronic media journalism and experience behind a camera and editing, we found ourselves constantly caught up in the over-analysis of content creation. 
When we decided to forget all we knew and only run with our key takeaways, everything changed. The result? A beyond fun space to share our hobbies and build community! We have a new found level of purpose and we want to help YOU do the same.

In this guide, we share the basics of content creation and the concepts we wish we knew years ago. Our goal is to help take the guess-work out of bringing your vision to life.
We hope you are able to take away tips and tricks that will help you feel confident in in simply getting started! 
With love,
Ab and Gab 

In this guide, you will find:
The Mindset: 6 ways of thinking

 that changed the game for us:

What we wish we knew before getting started.

The Technicals: Full equipment overview, how we edit our videos for social media & steps to film and upload for high-quality video
The Resources: Our top creator tools (editing apps, link sites, content planning)
Instructions:
Once purchased, access to download will be granted immediately by clicking the download button from the website confirmation page.
You will then receive 2 emails. Your first email will be an order confirmation, and the the second email will contain the digital download as well.
You can access at any time by opening your email titled "Your Purchased Digital Product: Download" and click the black "download" button next to your file.
Your file will appear in the "downloads" section on mobile device or computer. If you are downloading on an iPhone, view your files within the downloads section by selecting the blue circle icon with downward arrow.
We hope that our guides provide value and assistance. We encourage you to do what is best for you or your business!
Questions about your template? Email us at bellagemellimedia@gmail.com.